A Navy veteran's work restoring jets in an East Texas airport hangar has caught the attention of the History Channel, which will feature him on its Salute to Service special later this year .
On Wednesday and Thursday, the cast and crew of The History Channel were at the East Texas Regional Airport hangar in Gregg County to interview and film the retired Navy Lieutenant. Dan Filer of Alto for the special broadcast on Veterans Day.
Filer, who spent 18 years in the Navy and owns Unknown Aircraft Co., is set to be featured on the show in a segment about his work restoring MiG-23 jets back to flying condition. The special Salute to Service honors veterans and service members and the contributions of people who shine a light on military and related organizations, according to the network.
During his service, Filer said he flew attack aircraft from aircraft carriers, including 47 combat attack missions during the first Gulf War. Later he began to acquire Soviet jets, mainly MiG-23s, capable of flying more than twice the speed of sound at Mach 2.35. Over time, he acquired nearly 20 jets and has since donated several to museums, he said.
Two MiG-23s were moved to the new, larger East Texas hangar late last year. He previously said he chose the airport near Longview because of its longer runway "which can accommodate an aircraft like the ones I operate, and the airport was already in the process of dividing up lots for future hangars".
"This hangar was built in November and we trucked in two of the MiG-23s from West Texas. The transport made headlines around the world – the Russian newspaper, the Chinese newspaper," Filer said. "Yeah, that's crazy, moving them went all over the world."
Filer, who owns the planes, has teamed up with friend and veteran of the former Soviet Union Dobrin Dobrev, who specializes in MiG-23 engines.
"When I moved to the States years ago, Dan called me and said, 'I need your help.' So here I am," Dobrev said.
Filer said restoring the jets is a long but enjoyable process.
"Dobrin and I have spent the last two days working on the engine, and we are slowly getting it back into service," Filer said. "We meet about three to four times a year, so I'm hoping for maybe another year, a year and a half. It's a slow process, but we're having fun with it."
Filer acknowledged that the pair's background made them an unlikely duo.
"He's a veteran of one side of the former Soviet Union, and I'm on this side, and now we're together," Filer said. "We are on the same side working together to get planes back to flying condition."
Filer said he couldn't restore the jets without Dobrev, whom he called invaluable.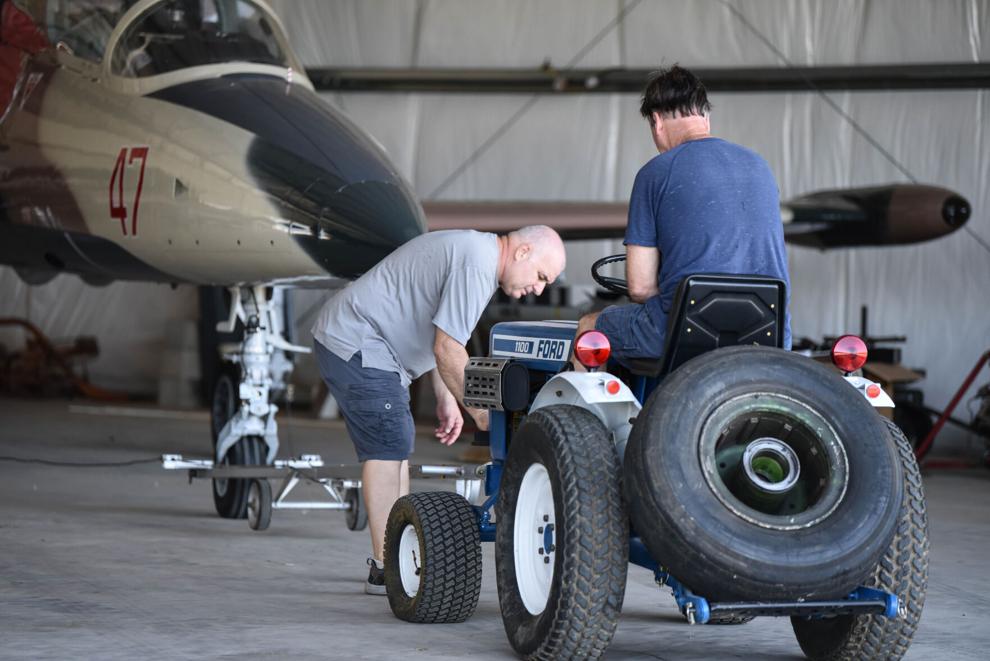 On Wednesday, the History Channel crew filmed volunteers dismantling the jet in Filer's hangar. As they did, he joked that interest in his post-army hobby might have been piqued by the release of a recent movie.
"Apparently people love aviation, and with 'Top Gun' coming out, it was pretty good timing," he said.
On Thursday, there was a possibility that the jet could take off.
Filer said he's proud of the work he and Dobrev are doing and excited to share it with the community when the show airs.
"It feels good. I'm quite proud. We would like to bring something to the community that they may not have seen before. This is the only private collection of flying MiG-23s in the world," he said "We are happy to bring it to the local community and hope to host air shows soon."