HHe was made famous by the international bestseller The Kabul Bookseller and survived a succession of repressive regimes in Afghanistan. But two decades later he is living in a London Home Office hotel, having fled the Taliban to seek asylum in the UK.
Shah Muhammad Rais, 69, arrived in the UK on September 26 and claimed asylum at the airport. He is waiting for his case to be processed and currently lives alongside other asylum seekers from various conflict zones.
"The UK was the only door open to me to be safe from the Taliban," he told the Guardian.
Her family members, including her nine children and four grandchildren, are scattered in different parts of the world. But his Kabul bookstore is still open after the Taliban takeover, as well as an online bookstore. He proudly hands over his business card – Shah M Book Co, printers, publishers, booksellers, Shah Muhammad Rais, managing director.
Times for the independent bookstore are tough, however, and Rais isn't sure if the shop, established in 1974 — and which has endured nearly five turbulent decades — can withstand today's challenges from the Taliban.
"Very few buy books now," he says sadly. One of the consequences of the Taliban takeover was a mass exodus of intellectuals and others who were part of the book-buying population when British and American forces were on the ground in Afghanistan.
"I will keep the bookstore open as long as possible, maybe the Taliban will ban it or destroy it," he shrugs.
Rais lived through different rules in Afghanistan and was imprisoned twice during the Soviet era, first in 1979 for a year and then again a year and a half after his release. He says he suffered torture and ill-treatment while in prison, including sleep deprivation and being forced to live in freezing conditions.
Åsne Seierstad, a Norwegian journalist, traveled to Afghanistan shortly after 9/11 and returned the following spring to write an account of life in the country through an intimate portrait of Afghan family life – the bookseller Rais, his two wives and his family. The book was based on her account and her observations after she was invited to move in with the family, with whom she lived for five months.
Rais rose to fame after the 2002 publication of the book, which topped international sales charts and has been translated into dozens of languages. However, he and members of his family took legal action against the author and claimed the book was inaccurate and invasive.
Following a lengthy legal battle, a Norwegian appeals court cleared the author of breaching the family's privacy and found the facts in the book to be accurate.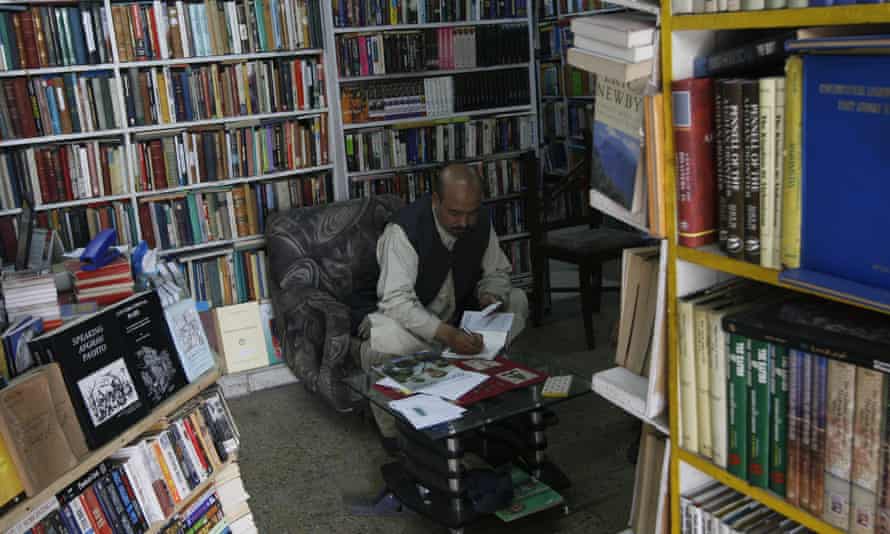 Rais' bookstore is believed to have the largest collection of books on Afghanistan, expressing a variety of different viewpoints on historical events, all under one roof. In addition to textbooks for students in fields such as medicine, engineering, and languages, Rais found many rare books for which Rais found safe hiding places in case his store was targeted.
"I have safe places in Iran and Pakistan for some of the books," he says.
He speaks six languages ​​and says with regret that he forgot a seventh that he spoke before: Russian.
After earning a master's degree in civil engineering from Kabul University, he thought it wouldn't be possible to make a living from engineering and decided to try to turn his love of books, which he had developed in adolescence, in a company.
In addition to his huge and diverse collection of Afghan books, he loves the classics, including works by Tolstoy, Balzac and Hemingway, and his favourite, the 13th-century Persian poet Rumi. "I loved reading Shakespeare's Othello in Persian," he says.
"From 2002 to 2020, I sold over 15,000 copies of European and American literature," says Rais. He says his goal has always been to reflect a plurality of viewpoints on significant events in history rather than taking sides with one side or another.
"I am on the side of sincerity," he says. "The Soviets put me in prison for collecting the decrees of Mullah Omar and other jihadist newspapers that I obtained in Pakistan. I said to the judge: 'Tomorrow we will need these papers to study the Afghan jihad – to understand your enemies.' »
In better times, its bookstore was a focal point for intellectuals from diverse backgrounds to congregate, sit on mattresses and listen to international news on good quality radio and debate the political and philosophical issues of the day. .
Now Rais' future is in doubt as he anxiously awaits the outcome of his asylum application. And particularly agonizing for a book lover, he now suffers from a visual impairment. But his energy and enthusiasm are intact.
"If granted permission to work in the UK, I would like to open an Afghan reading room at the British Library. I am writing a book on Afghan land, culture and history and would like to open a multicultural and multilingual bookstore here for people from the region – from Pakistan, from Bangladesh, from Iran. It's what I dream of. »